Posted by Fiola on December 12, 2014 14:05
Here it comes! We know final cast for Czech and English dubbing. Firstly, I have to say that negotiation with foreign actors wouldn't be this easy, if it wasn't for the friendly support of the talented Chris Noisi, who took care of the entire directing. Chris is a creator of many series, and does many voiceovers with various talented actors.
Well now, let's see the chart of actors and their roles :)
| | | |
| --- | --- | --- |
| Role | Czech actor/actress | English actor/actress |
| Auriel | Zuzana Cinková (BatyAlquawen) | Kira Buckland (RinaChan) |
| Skelet | Martin Rota | Anthony Sardinha |
| Smusa | Šimon Vojta | Edwyn Tiong |
| Kapitán Jetsen | Tomáš Kraucher | River Kanoff |
| Nejfake | Nejfake sám osobně | Chris Niosi |
| Ati | Martin Malý | Mark Whitten |
| Selassie | Matej Slazansky | Blake Swift (ShadyVox) |
It is important to mention that we chose very voice that are a lot alike for the casting to make both Czech and English versions as similar as possible. And even now we can say that it the experience will be double as good, especially for Czech players, since the English dabbing adds a whole new dimension to the game.
We're hoping you'll come to love all of them, just like we did!
---
Show all articles in blog
about game
BLACKHOLE is an animated 2D sci-fi platform game that includes elements of logic, breathtaking story and audiovisual processing. A player finds himself inside of a black hole where he discovers a whole new world!
Join Our Mailing List
Enter your e-mail and we will let you know about Blackhole updates!
Team behind the game

FiolaSoft Studio is an indie multimedia studio formed in 2002 and since then team use the GameMaker as primary tool to creating games. The studio brings together a group of creative people who are ready for any IT challenge.
Buy the collector's edition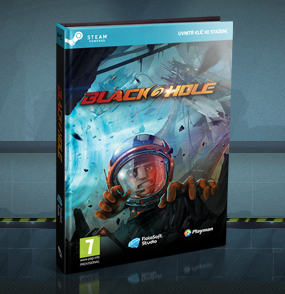 TWITTER
Tweety uživatele @BlackholeGame
FACEBOOK
More questions?
Contact us and ask about anything. And if you are interested in our game, or if you are willing to write about or make a video about Blackhole, write soon! :)
contact us