Brand new world Posted by Fiola on January 14, 2015 13:15 PM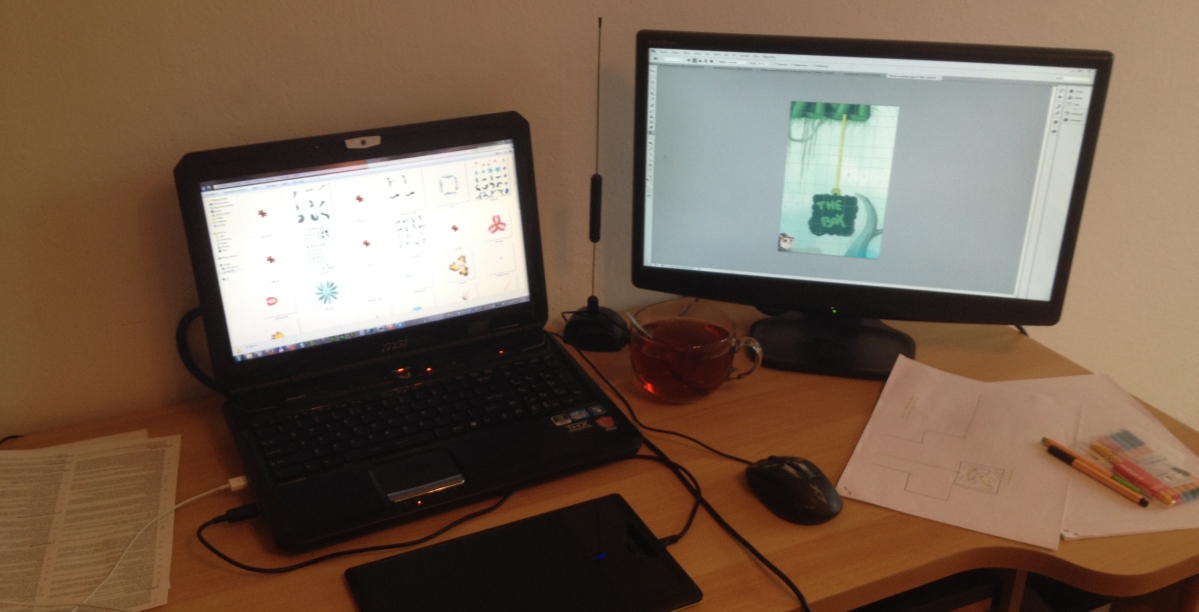 For today Radek took the floor, and as the main graphic artist of the team he will present you with his own view on the development and what the creation of graphic brings for Blackhole.
When an imagination becomes a reality
Maybe you've already thought about what it would be like, to live in world of fairy-tales, fantasy or sci-fi. Some place with entirely different rules, creatures that are normally just a myth and your success depends on the complexity of the magic you can use (or how well you deliver a coffee). And now, imagine you've got the chance to create such world. A world from your the craziest fantasies and with heroes living their own stories in it. This has been our goal here in Fiolasoft for the past year, and I must say that being a part of it is like a dream come true.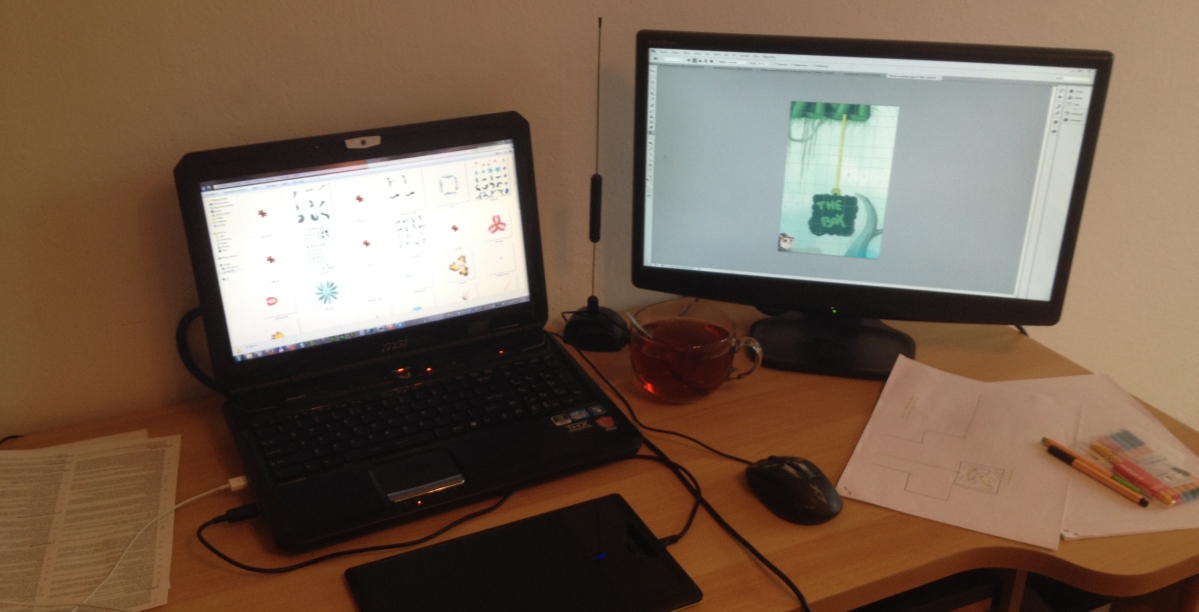 My task was clear from the beginning of the development. To put action and energy into the prototype, and to make graphics that'd be a feast for the eye. It means a lot of designs, drafts and sketches, that'd usually lead to a jumbo team discussion about what do we change and why it won't work from the perspective of game design. Let's take a random example: the first draft of the game, which would allow much more creative freedom, but there's no way to make it spin in 2D, without reducing the clarity of the game.
Overall, game concept is a challenge for a graphic artist in many ways. It's important to create an environment in which the players don't get lost (I think 4 points of view are adequate challenge for sense of direction), and all the elements have their own purpose at first sight (or 'this didn't seem like it could kill me'). It's necessary to keep in mind how should the moving walkways or trampolines react to players, if my designs aren't too complicated for the game, be it because of the CPU, RAM or options of development's environment. But our god-like programmer Seeker handles my ideas very well.

We're all in the same boat
It's great I'm not alone in this. We talk about things together in the team, whether you're a programmer, a graphic designer, a soundman or a pilot of a spaceship. Everyone has the option to come up with an idea, discuss whatever somebody else came with and like this, a game that all of us like can come to existence.
Right now there are three of us for the creation of materials for the game. I as a person, who creates game environments, coordinates graphics with the concepts of game designers and level designers. Rado Markovic, incredibly talented artist, who, among other thing, prepares concept art and marketing materials, and Bohumil Sodoma, the newest member of our graphic team, who creates brilliant animations. Things wouldn't work without them, and this way I'd like to thank them.

And the time machine is still missing...
But sometimes, things don't work out the way you want them to. Days only have 24 hours, nothing can be done about that. The creation of a game like Blackhole is a really time consuming activity and most us are participating in it in our free time. For me that means working in the evenings after work and on the weekends, no matter where I am. I travelled a lot in the past 6 months, and for quite long distances, but I always had to find the time and place for working on Blackhole so the development wouldn't stand. That is hard not only for time management, quality of my thesis and my girlfriend's nerves, but also for my back :D (notebook with sufficient power - 3,5 kg).
Currently I'm finishing the final graphics for the last environment, and I'm super curious what will you say about it. I gotta say, it's somewhat different from the others. Moreover, my day job (or more like a night job?) is to correct the graphics mistakes and glitches (there's still a whole bunch of them, but they're disappearing slowly), to improve those things that are already finished, but aren't exactly shipshape and playing...ehm...testing the game that I really enjoy.
Thank you for your favour, it is thanks to this that we still have the energy to put everything into the development and prepare a game that you'll enjoy.