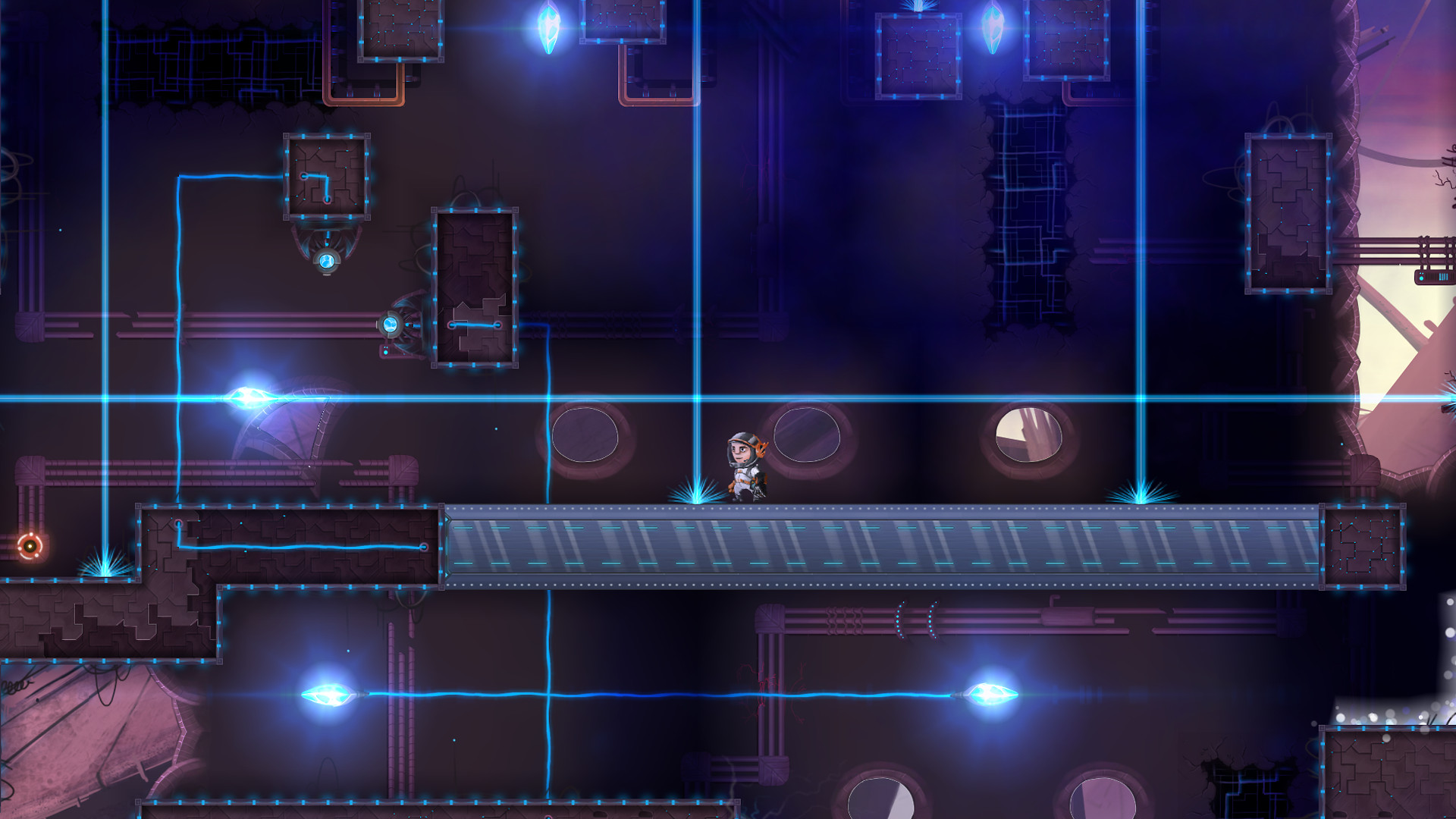 Good news for all 2D platformers' fans out there who, until now, thought that Blackhole might turn out to be too hardcore for them. Not only Easy Mode was just added to the game, but the free demo is also now available. And if the amount of dialogues bugged you too, consider it solved as well.
ADJUSTING THE AMOUNT OF DIALOGUE LINES
Not a big fan of long chats between NPCs, that interrupt your platforming experience? No problem as from now on you'll be able to choose 'Less dialogues' option and turn it on or off freely throughout your whole play through. This option doesn't switch the story off completely. It only disables some side dialogue lines that are not core for the plot. And leaves you with pure, dynamic, platforming joy.
EASY MODE
Unlike 'Less dialogues' this option can be chosen only once as it changes the gameplay massively. Also it disables most achievements based on hardcore playthrough and timing. And it won't allow you to send time record or coffee-time for levels to online leaderboards. So be careful and think twice before enabling it! In the same time this may be a great solution for gamers who seemed to have problems with finishing the game but yet were keen on learning the whole story.

Mostly because with Easy Mode on, you will be able to keep your collected selfburn if you die. And if you run over the start portal, your progress will be saved. Those, who already had a chance to try out the game know, that this will make beating the levels and solving puzzles significantly easier. And in result the game should be more accessible for casual gamers.
1.0.5B CHANGE LOG
MAIN ISSUES
Fixed 120+ bugs across the game
Fixed some level solutions
New less dialogues mode
New easy mode
New options in the menu
New asynchronous save system
RESOLVED ISSUES
(FIX) Testing laboratory DLC loading fixed
(FIX) New volume for some music files
(FIX) Buttons are now more responsive
(FIX) Fixed bug causing hack in Videogameception level
(FIX) PS4 controller images fixed
(FIX) New save system has now backup function
(FIX) Fixed bug causing death for character close by you
(FIX) Fixed bug with loading external resources
(FIX) Fixed bug in datapads at Sacred Library location
(FIX) Fixed bug causing hidden Ati's auto-batery
(FIX) Fixed typos in english language file
(FIX) Fixed bug causing sound loop and game crash in Sacred Library
(FIX) Fixed bug causing that logo of the game is missing
(FIX) Fixed bug when you're getting more than one quest at time
(FIX) Fixed graphics glitches
(FIX) Fixed some achievements
KNOWN ISSUES
We are working hard to fix these reported issues as soon as possible:
We need to translate new lines for Secret of the Entity into all languages (missing lines are temporarily replaced by english)
Missing Steam Overlay in Mac OS X version (still under review)
What next?
We also want to inform all players that we are currently working on another big update for the game. Challenge Vault in version 1.0.6 will bring a new set of levels for free every week, also we will introduce the "online mode" for the game! Thank you for your patience and support!