Dear players,
for several weeks We were trying to recover and run update for better Intel HD Graphics experience. The game is crashing, especially on Windows 10 because of changes made by Intel in drivers. To better understand our struggle, it's like driving a car on the highway, but with constantly changing the surface of the road. We are aware of that, but can't do pretty much anything about it right away. We have to learn and adapt our export to that. And that's not instant.
Our Blackhole is now at stage where we want to activate online mode. We are working on this for very long time. This is causing some trouble to quickly adapt & respond to each problem you have. But we are still trying to solve all problems you experienced. Even on Laptops systems which are not supported natively because all of this.
We are really sorry to see many of you going to refund just because the crash on the intro without contacting our support or writing into our phorums, but this is something what we have to accept as it is. We will of course try to do better in the future, but you should know that we really care about our players - about you.
Thank you for your patience and to give it a try at first.
If you are not able to play our game - if it is crashing on your system or you have any other problems, you should maybe try to change game into Beta Version, where we are testing newest builds and trying to catch every problem before we release such update world-wide.
How to activate Public Beta of Blackhole:


Go into your Library in Steam

Find Blackhole

Open Blackhole Properties

There is section "Betas"

Select "beta - Public Beta Branch"

No need enter password

Download the update

Try to play game now! :)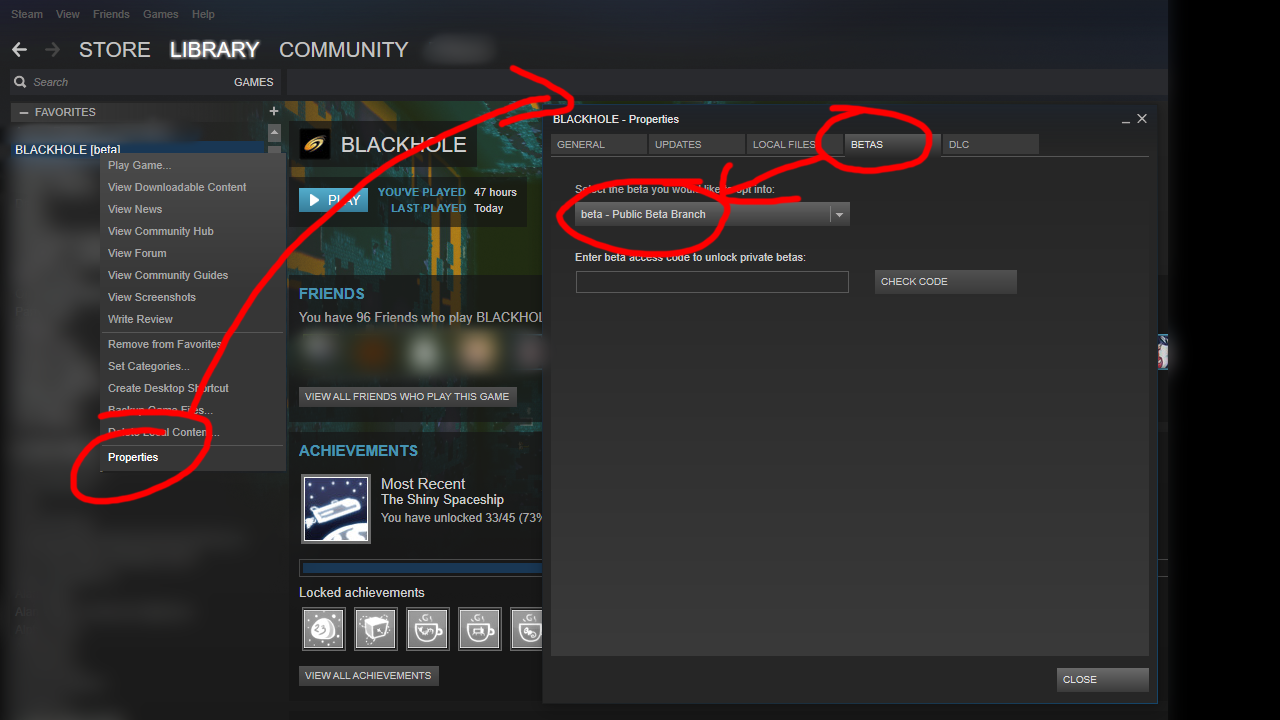 Let us know, if the beta version helped. If you don't have any issues with Blackhole on your system, please, don't update into beta branch. Still, better is to play stable release than our untested unfinished exprimental build.
Thank you very much for your patience and support. If you need any special support, don't worry to contact us directly using kontakt@fiolasoft.cz - thank you!
PS: If you have problem with running the game, would you mind to tell us your CPU, GPU and OS? If you want to help us, leave them into comments below. It will give us the perspective, how large our problems are.
Have a great day,
Fiola